2019
RESPONSE TXI MO
A NEW LEGEND IS BORN
MALIBU RESPONSE TXI | PRO-LEVEL PRECISION FOR EVERY SKIER
If you've been waiting for the next step in ski boat performance evolution, the 2019 Malibu Response TXi gives you the reason to upgrade that you've been waiting for. Like the original TXi, the new model is easy to handle and makes an ideal ski boat for any line length and skill level.
The 2019 TXi creates our softest flattest wakes ever while putting a sharper edge on unmistakable Malibu Style. Whether you're a pro going for a world record or a newcomer to waterskiing, the nimble, competition-proven and consistent Malibu Response TXi will give you your best experience on the water.
Choose the classic closed-bow design with seating for up to five or the contemporary open-bow model to take along two more friends. With either one, precision -driven engineering and design make the new Response TXi an compromised performer.
The famous T-Cut Diamond hull with a wider bow, adjusted chines and angled strakes. The 2019 TXi gives a better ride on the water, with increased lift and a more forgiving wake. The driver will feel higher precision handling at tournament speeds for all three events, while skiers who are looking to set a new personal best will notice the TXi's utter consistency and performance.
With lowered the dash we have created improved driver sight-lines, because better for the driver means better for the skier. We improved ergonomics and storage and added a new Zero Off integrated 4.5" touch screen for our flagship Malibu open Edition. Details like new billet aluminium folding ski racks, glove-box and rear hatch lids exemplify renowned Malibu attention to details.
The truth is on the water in the unrivaled performance of the all-new Malibu Response TXi.
| | |
| --- | --- |
| Length | 20'6" | 6.25 m |
| Beam | 95" | 2.41 m |
| Dry Weight | 3,100 lbs | 1,406 kgs |
| Draft | 22" | 0.56 m |
| Fuel Capacity | 40 gal | 151 Ltrs |
| Hull Type | T-Cut Diamond |
| Capacity | Open Bow 7 people | Closed Bow 5 people |
| Disclaimer | |
Record Setting T-Cut Diamond Hull
Seven-Seat Open Bow Version
Lifetime Hull Warranty
Designed For All Ski Levels
Malibu Open Edition (optional)
Malibu Open Edition Badging
7" Touch Screen
Zero Off Cruise Control
Custom Billet Aluminium Accents
Engine Accessories
Flush Kit - Transom Install (Added when Saltwater Selected)
Silent Rider Mufflers
Water Cooled Shaft Seal
Dual (In-line Baffle) Mufflers
Standard Exhaust
Heater, 3-Outlet
Flush Kit - Transom Install (Optn, Auto Selected w/SWS)
Sea Strainer (Optn, Auto Selected w/SWS)
STE - Silent Tip Exhaust (only with CE optn)
Shower - Hot Water
Canvas Covers
Shrink Wrap Shipping Cover
Cockpit Options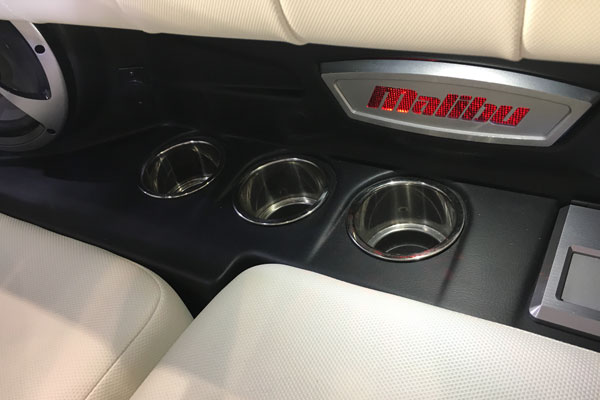 Deck Trac - Soft Grip - Nonskid (Complete Deck Kit)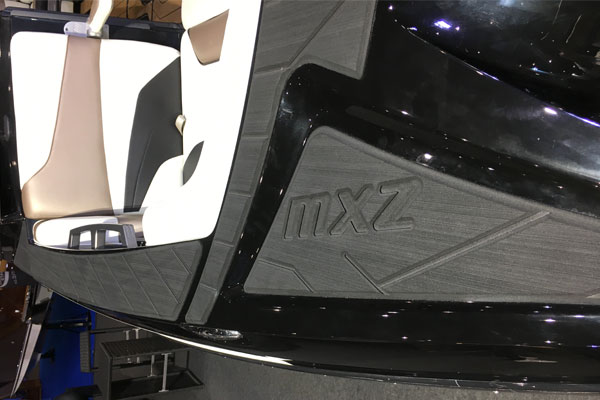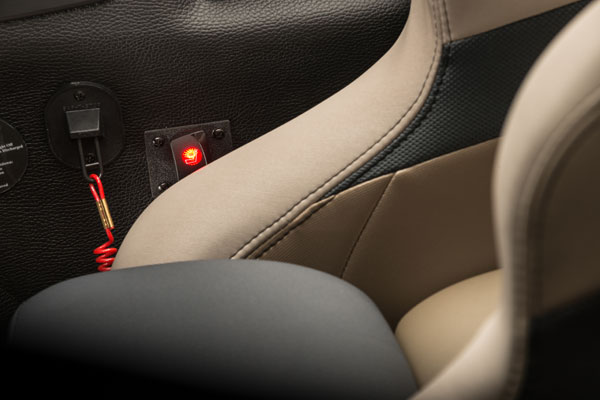 HELM SEAT HEATER We know that your desire to pursue your sport will sometimes find you on the water on less warm moments. So to keep those helming your Malibu happy, your can select the Helm Seat Heater, and with the flick of a switch this integrated heating element will keep your driver nice and toasty.
Mirror with Windscreen Mount
Mirror & Windscreen Mount - PTM Panoramic 140 degree, Billet
Mirror & Windscreen Mount - PTM 14 in - Black Composite
Cockpit Flooring - Snap-out Carpet Insert
Cockpit Flooring - Soft-Grip Flooring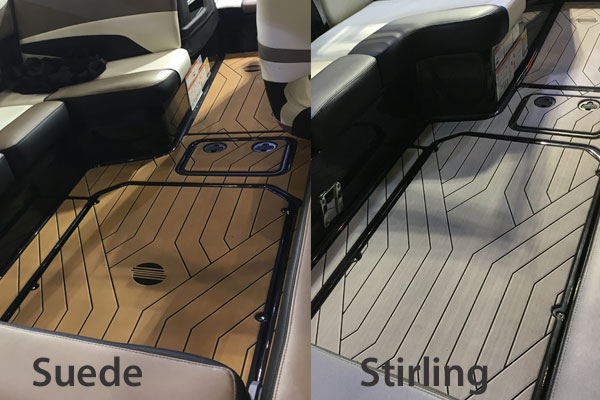 SOFT GRIP FLOORING Our Soft Grip Flooring adds comfort, grip, durability and an ultra-premium look and feel to your Malibu's interior and swimdeck.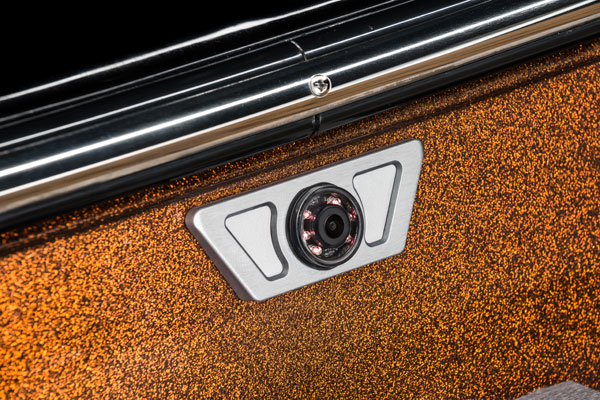 Wide Angle Rear View Camera This high-definition rear-view camera is located on the transom, so you can always keep an eye on what's happening behind the boat, for increased safety. Footage is viewable live or recorded on the MaliView Screen.
Hardware
Insulated Motor Box
Depth Finder
Malibu MSST Sound Suppression
Fibreglass Engine Chassis System (FibECS)
Malibu Touch Command (MTC) with Keyless Start
Battery Set Up - Option 2 (required for Sound Package. Includes a battery isolator switch with a second box and cables.)
Ladder - Undermount Swimstep
Phender Pro - Quick Release Pin & Receiver
Pull Up Cleats - Two Pair
Battery - 500 CCA (Taylor Deep Cycle)
Battery - 800 CCA (Taylor Deep Cycle)
Dual Batteries - 500 CCA & 800 CCA
Battery Charger (European)
Lighting
Docking Lights (Pair, 6 LEDs each)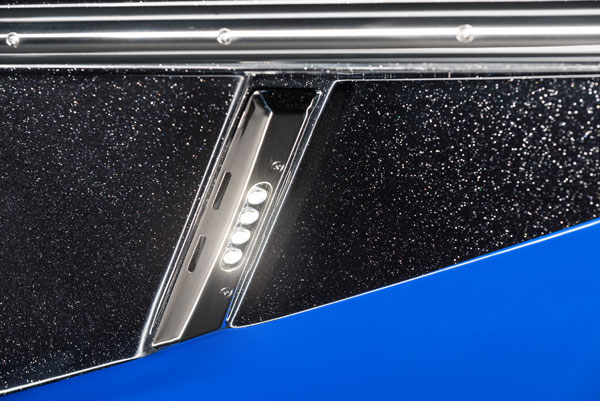 DOCKING LIGHTS - Docking lights feature 18 bright-white LED's that emit an X-shaped beam. Expands the visible area and consumes much less power than traditional halogen
Transom Lights - Underwater - Blue
Transom Lights - Underwater - White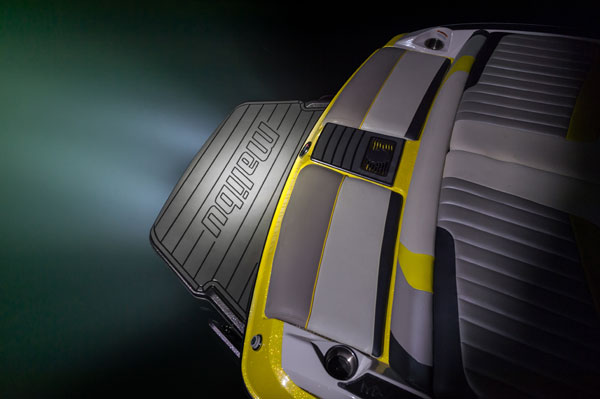 Regina Jaquess
"From day one, I knew the new TXi would allow me to push the limits. Without any interruption from the wakes, the TXi allowed me to continue to gain cross course direction when approaching each buoy. I'm super excited about this boat and the future it brings to the sport." Regina Jaquess (Womens Slalom World Record Holder)
---
Manon Costard
The only ski boat that has it all. I love to train behind the TXi with its flat and soft wakes and its extremely consistent pull. It also is easy to drive straight down the course and it looks beautiful!
MANON COSTARD Malibu Pro Athlete & European Record Holder
---
BOATING
Malibu's Response TXi tracks as straight as a ruler on a slalom course and throws a small, soft wake.
Professional-level skiers don't ask for much — just a boat that tracks as straight as a ruler on a slalom course and throws the smallest, softest, flattest wake known to mankind. The Malibu Response TXi delivers on all counts. Look a little closer, and you'll find that it delivers even more.

At the helm, the driver works off of both a 12-inch and 7-inch touchscreen display to set the boat up to his liking, as well as monitor speed and fuel. With Zero Off GPS cruise, the driver can set the speed, the course and go, so he or she can focus solely on giving the skier the best possible tow. The standard adjustable rudder tab allows the driver to set the rudder torque to his or her liking. Malibu's T-Cut Diamond hull design considerably reduces the boat's footprint in the water, and the three-finned design helps it track straight. Underway, the TXi doesn't throw spray that can obscure the skier's view of the next slalom gate. Everything about this boat puts the skier in the most likely position to succeed.
That's not to say the TXi doesn't have the luxurious interior to keep the crew in comfort on a joyride. It does. The open-bow version features plush bow seating with forward-facing backrests against the consoles, boasting stereo speakers, cup holders and grab handles. The closed-bow version features a windshield walk-through to the bow and storage underneath. (The open-bow version holds seven passengers; the closed bow holds five.) In the main cockpit, passengers will like the billet aluminum grab handles and the twin seats adorning the centerline step-up to the transom. Folding billet aluminum ski racks in the gunwales keep the skis safe and secure while cruising around the lake. Like all Malibu boats, the TXi hull is cut and molded to precise tolerances thanks to its CAD design and production via a five-axis router. Whether you plan to use this boat in the highest levels of competition or just as the family tow boat for weekends at the lake, the Malibu Response TXi is a boat that will make you a true winner.

High Points
* Malibu's T-Cut Diamond hull design ensures laser-straight tracking and the flat wake beloved by pro-level skiers.
* Four water-skiing world records have been set behind the TXi hull, with more records sure to come.
* Billet aluminum folding ski racks in the cockpit keep your skis safe and secure while underway.
Boatingmag.com
---
WaterSki Mag
For 2017 Malibu is offering a base model with analog gauges as well as the Malibu Open Edition TXi, which has a full-color touchscreen as well as an auxiliary screen with hot keys, gunwale ski racks and contoured grab handles. The ski racks swivel to accommodate any ski and have enough clearance that your fin won't get detuned, even if someone bumps into the top of the ski.
The helm now sports multiple USB ports as well as a dry box to store your phone, and the entire driver's seat is sunk into the deck of the boat so you have more room to stretch your legs. The driver's seat is easier to enter for tall drivers, and the dash has a lower profile so you have better visibility.
There's an open- and closed-bow version of the new TXi, so you get to choose based on how you like to use your boat. If you get the open-bow version, you get the functionality of additional seating, and with the closed-bow version, you get that classic ski-boat look as well as a generous storage compartment that fills the hollow bow.
Malibu made a unique side buckle just forward of the driver that makes the boat look like an arrowhead from a bird's-eye view. High-density marine-grade foam covers just about everything inside, and the gelcoat is available in metal-flake options that make this sleek hull look fast even when it's at idle.
Water Ski Magazine
---
Enrico Cohen
The new TXi handles excellently and I have driven a lot of competition boats. Believe me as Level 1 boat driver I know in a few runs how the boat performs I was driver on World, European, National Championships Barefoot & Tournament Waterski. Malibu did a great job. Enrico Cohen (Professional Competition Boat Driver)
---